Website is an online salesman who keeps promoting your business 24/7!!
Websites make your business look authentic and credible. It gives insights about customers and also plays a key role while advertising. This also helps in reducing the costs in terms of maintaining physical stores. You can also resolve customer queries easily online which can save you time and money. This further can strengthen your relationship with the customers. All these factors can directly have a positive impact on sales.
Website development services are very important not just at the beginning but also in the later part. These are important for further modifications and updates that you want to make.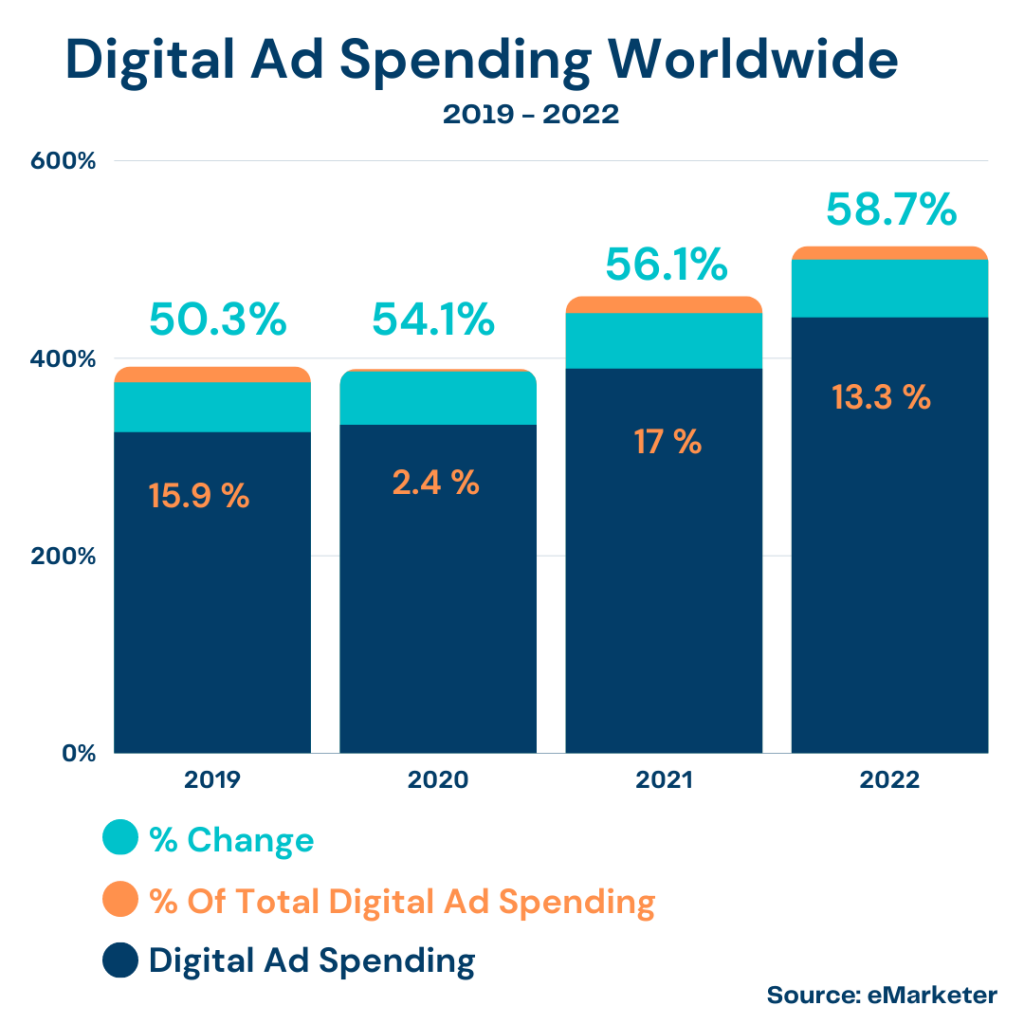 This is a graph that shows the Ad spending on Digital Platforms worldwide on yearly basis.
There are many companies and individual freelancers who provide Web Design and Development Services. While choosing one, make sure to check all the factors such as portfolio, level of expertise, sharing the same values, quality of work, and budget-friendliness among others. Don't be in a rush to choose one as this will be the first point of contact in the online world for your customers.
It can be a driving force for your BUSINESS EXPANSION!
Basic Elements of Website Design
Website design mainly includes Layout, Pages, Navigation, and Images. Many companies that provide website development services start with these elements. These 4 together form the basics of a website design. As they say, the stronger the foundation of a building, the longer is its life. The same applies here as well. If we take care of these basic elements, then they take care of your business.
Layout
In Website Development Services, Layout is the first thing that's prioritized by the developers. The Layout is a structured design that gives an idea regarding the placement of the section, sub-sections, and further pages. At the top, we need to have a header and a footer the bottom. Beneath the header, navigational columns can be added on the left. The layout can be modified following the needs of the business.
Pages
Just like how we have magazine pages, web pages are the ones that have content. Some basic pages are required to be included on your website like a Home page and a Contact Us page. Each page follows a set design that gives a consistent look to your website.
Navigation
Since the user is not accompanied by anybody related to your business, they should be guided easily throughout your website. They should be able to move from one page/section of your website to another without much hassle.
User-friendly navigation during the strategy phase has to be charted out to the customer by the website development services company. Making them comfortable in using your website is the main goal here.
Visual content
Visual content includes images, videos, slide decks, charts, etc. Visuals in any form should be apt and should match the content. This gives a personalized feel to your website. Graphics along with this can be the CROWD PULLER for your website.
Provide special attention to these elements & review websites periodically. Few of these changes can be done by an in-house team dedicated to website development services. Many companies/freelancers specifically work only on providing website development services related to website updates only.
Here are a few ways to understand if your website is optimized for your business or not. There are many free tools such as Webimax, Rankwatch, Alexa that do a complete analysis of your website and give a report accordingly.
MetroMindz also provides such reports by doing your complete website analysis.
6 factors of web design that can have a positive impact on your sales
When a company is providing website development services, it has to keep in mind all these factors while creating the right strategy for the clients. Metromindz is one such company where we consider all the relevant factors before starting the website development services for any of our clients.
Keep it simple and unique
Simple design along with specific options makes it easier for the customers to make a purchase decision. A simple design helps people to navigate from the product page to the checkout page effortlessly. Depending on these two factors the agency that's working on your website development services can provide a proper strategy.
As people tend to get their businesses online, the competition in the online space is heating up. If you have just another website on the internet then you will not reach anywhere. Being unique and different is not only a necessity but a crucial factor for your business growth.
A unique, simple, well-designed website represents your brand and conveys your company's message efficiently.
Responsive Design
More than 50% of the website traffic is from mobiles. Even now if your website is not having a mobile responsive design, then your business story is not heading towards the right ending. Nowadays agencies selling website development services tend to highlight this point as an influential factor.
Your website has to fit all the screen sizes and the elements should be configured and placed accordingly to make it easy for the customers. Google has also started indexing websites based on their mobile version rather than the desktop version.
A mobile site is a miniature version of your full-size website and acts as a brand ambassador for your business.
Improve Loading Time
The attention span of humans has been reducing with the ardent growth of technology. So the time you have to lay an impact on a person is very less. It takes only 3 seconds to decide for a user to stay or abandon your website.
Images, Graphics, Videos, and other visual content has to be compressed and used. Along with this content should be crisp and on the point.
Implement effective Call to actions
Having unique and appropriate CTA's can have a big impact on sales. You can select a Call to action that suits your business. These actions must be able to connect with your audience. You can even customize your CTA with your brand name. Use clear, precise, strong action words in your call to action buttons.
Just like TOO MANY COOKS SPOIL THE BROTH, using too many of these also can be harmful. This should be on top of the priority list for the website development services provider once the basic foundation is completed. 2021 study of small business websites by Top Digital Agency found that 70% of the websites use zero call to action buttons. So strike the right balance in the numbers and choose the ones that drive conversions on your website.
Clear Navigation
Once a user lands on your website, navigation should be the guide that takes him through the entire website. This should guide him as to what a particular page is all about and how it adds value to him. It should be easy to switch between pages or visit a different section altogether.
Navigation should be able to help a user to browse your website hassle-free. Easier and clear navigation can lead to a faster check out and thereby increasing the sales of your business.
Social Media Proof
People trust reviews from real customers whether on your website or social media. There can be a separate section that can be created on your website highlighting this. This can be modified anytime by the company that's providing the website development services to you.
They tend to connect and trust other customers quite easily. Having customer testimonials or feedback on your website from social media will make your brand look authentic and legit.
It can be a simple Tweet or an Instagram post from one of your customers that can have a positive impact on a new user prospect that has just started using your website. Video testimonials with real faces are said to create the best impression of your brand.
Any company providing website development services must keep these points in mind while developing a website for you. The primary reason for having a website is to increase sales by attracting the right prospects. These prospects when converted as your customers become an integral part of your GROWTH STORY.
Best web design occurs when all the basic and custom features are done with a strategy that makes the flow on the website flawless. A solid strategy with all these points in mind can allow an agency to provide the best website development services.
A Website should be able to showcase your products or services just like how a person uses a resume to showcase his/her skills. This can help people to add credibility to your business as well to strengthen your brand.
Any type of communication, piece of content, or advertisement that has been put up online will redirect people to your website. A website acts as a backbone to your online business. Website development services are at the core of creating a properly structured website that can sustain the growth of your business.
MetroMindz is one such web designing company in Bangalore that has experience in designing free-flowing, business-optimized websites.