If Facebook was to be a country then it would be the most populated country in the world. The count of its ever-growing active monthly users is on track to reach 2 billion people. These users are related to only Facebook which is touted to be the biggest social media platform.

Find more statistics at Statista
Think of the big number that you would get if you can combine all the social media users across various platforms. If they are your potential customers, imagine how big your business could be with this kind of reach. This entirely demonstrates the power of Social Media Marketing!
Business Survival
In the current situation, the need for businesses to come online is increasing. Lockdowns can stagnate your sales and it becomes very difficult to survive.
Social Media Marketing can be instrumental for your business survival as it brings down your advertising costs. The one main factor here is that the brands are charged only if a user has clicked on their social media ad.
As technology grows, everything becomes digital, businesses also need to adapt to the current trends only then will they be able to survive and strive in the long run. The pandemic has only aggravated the need for it.
We have come across small businesses like fashion boutiques, confectionary shops, parlors who have been conducting their business solely on these platforms. Social Media Marketing has been a way to get new customers and improve their business.
Irrespective of the business that you're in, you can make use of it not just to survive this pandemic but also to grow your business to greater heights.
Top Social Media Platforms
Facebook, Instagram, YouTube, Twitter are some of the most popular social media platforms that are being used worldwide. For example, Facebook was created to connect people irrespective of location, age, gender among many other factors. Twitter was created for people to get a hang of what is happening across the world. These are the best platforms that can be used for Social Media Marketing.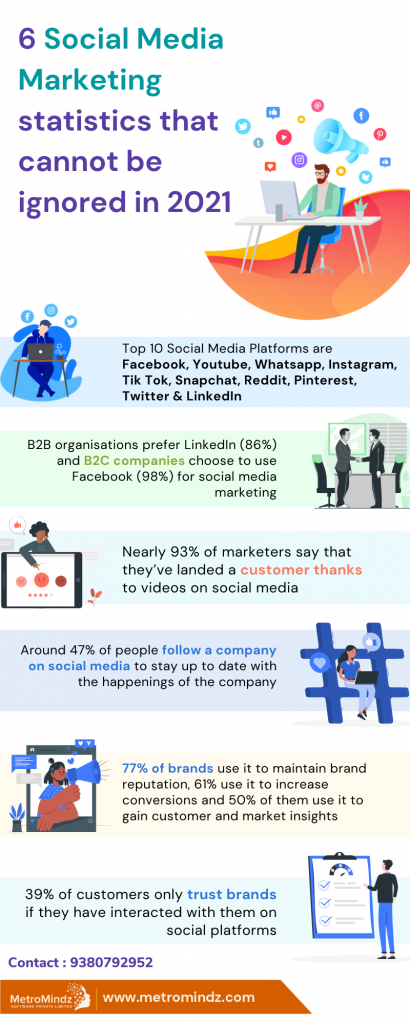 LinkedIn is another great example of a social media network that is purely for professional and business services. The sole purpose of this network is to help businesses in every possible way. From finding the right employees to finding your target audience, this platform is more of a business network.
Facebook, Instagram, and many others are constantly trying to evolve to accommodate businesses on their platforms. Tik Tok has become the world's most downloaded social media app. It is the latest sensation that's luring marketers to advertise on it.
Benefits of Social Media Marketing
Small businesses need to understand the benefits as even now many owners are still reluctant. Approximately 25% of them say they don't want to add Social Media Marketing to their marketing campaigns.
Improvement of Brand Awareness
The visibility of your brand increases if it is present on any of the social media platforms. A simple social media strategy put into effect can increase your brand recognition by leaps and bounds.
Customer Engagement
Social media provides brands an opportunity to engage with the customers directly. There are many ways that you can engage with your customers like posts, stories, contests, and many more. Any of these can help the brands to increase engagement and make people speak more about their brand on social media.
Cost-effective Advertising
Social Media Platforms are using the customer data that is being generated to provide a personalized experience for their users. These platforms let businesses find the right target audience at a cost that is cheaper than most of the other means of advertising.
Impact on Website Traffic
Social media can be leveraged to increase the traffic of your website. An increase in website traffic happens after redirecting users to your website from social media profiles. This in turn leads to an increase in overall traffic and helps you to get more sales and conversions.
Social Media Marketing provides the option for the brands to redirect users to their websites to complete the sale. Thus leading to an increase in website traffic as more prospects visit your website.
Social Listening
A business grows more when it starts listening to its customers. Social media provides the brands a platform for direct interaction with their customers. This can help them clearly understand what their customer needs. Hence social listening can be very effective for the future growth of your business.
Customer Behaviour
Most of the platforms provide analytics or insights that depict the performance of a particular post or the business as a whole with the help of graphs. This data can be the key to further grow your company. Here the parameters might vary from platform to platform but a few of them like location, gender, age are common across the platforms.
Get Viral
Create a campaign for your brand that goes viral. Creativity along with humor make your brand campaign trending on all platforms. A large number of people take note of your brand when such campaigns go viral.
Keeping customers updated
Whether it's about a new product launch or a business event, social media is the easiest way for people to know about this. This can draw the attention of your customers who tend to get excited and share it with their friends and family.
Brand Authenticity
People tend to get bored if your social media profile is all about formal, dry-corporate style posts. There's a personality that each business carries and it should be reflected on their social media profiles. Brands that showcase their employees, work culture, offices in their profile tend to give a realistic and authentic outlook to their followers.
Statistics that prove that Social Media Marketing work
1. Every day, on average, a person spends 2 hours and 25 minutes on social media according to the latest statistics (DataReportal, 2021).
2. More than 50% of the consumers follow a brand to learn about its new products or services.
3. Positive experiences with a brand will make 73% of consumers to recommend the brand to their friends and family (Lyfemarketing, 2018).
4. 91% of the customers will visit the brand's website or app through the social media profile of the brands.
5. Around 47% of people follow a company on social media to stay up to date with the happenings of the company.
6. 73% of marketers have seen their businesses grow after including social media marketing in their marketing strategy (Buffer, 2019).
7. With B2B marketers, Social Media Advertising was used by 83% of them and also ranked 2nd in the success rate with 29%. Social Media Marketing has always had a place in a B2B marketing strategy.
8. LinkedIn tops the list of most-used platforms for organic content distribution as well as paid social media with 96% of B2B marketers preferring it over others.
9. In Q2 2020, the average cost to reach a thousand impressions on social media was $4.33.
10. The average click-through rate for social media ads was 1.3% for the year 2020, a little higher than 2019.
11. Facebook makes most of its money from advertising that has 9 million active advertisers on its platform in Q2 of 2020.
Just saying NUMBERS DON'T LIE!
Paid Social Media Marketing
There are two ways in which you can reach people using social media. The first one is ORGANIC and the other one is INORGANIC. In other words, Inorganic is the paid advertising way of Social Media Marketing.
Paid advertising is the biggest revenue generator for social media platforms. User data collected by these platforms are so huge that there are separate data centers that are set up solely for this purpose.
This data becomes useful to businesses when they start Social Media Marketing for their brands.
Social Media Marketing can help them to find the right target audience for each of their products or services. They can use this to grow their sales and revenue.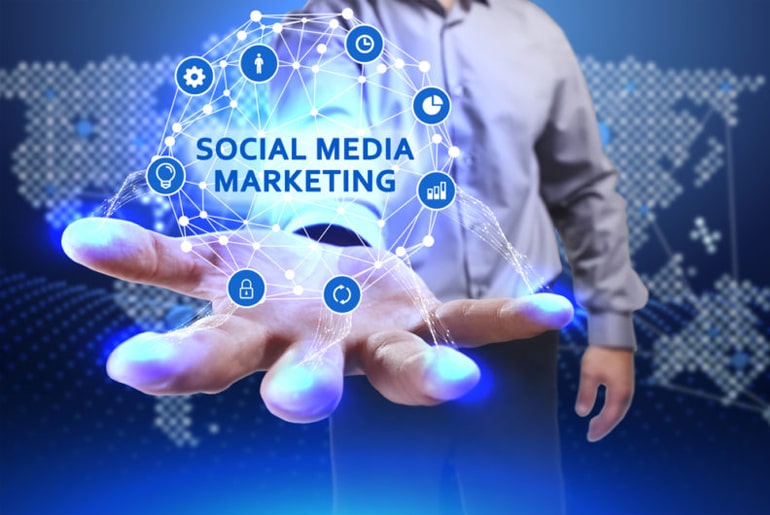 Businesses are charged on a cost-per-click basis in which they have to pay only if a customer clicks on their advertisements. These ads are said to be cheaper as well as provide a high Return on investment (ROI) when compared to other forms of advertising.
The go-to factor for the ads that come under Social Media Marketing is that they can be tracked. Insights provide data on how well your ads are received by people, and the number of sales that have taken place.
You can even modify these ads in between depending on the performance of your ads. It is this kind of flexibility that lures advertisers to social media. These two form the core of Social Media Marketing.
Reddit, a social media platform, was used to create ripples in the American Stock Market.
This is just one example of how social media has given people the power to do things that were hard to achieve otherwise.
With the amount of time spent on social media platforms increasing with each passing year, the platforms are always on the search for ways to make people stay much longer. This is a plus for Social Media Marketing as there's a chance for people to watch more ads due to this.
Facebook has launched a separate marketplace called Facebook Marketplace where you can buy or sell anything. It has recently added live stream shopping events to push e-commerce.
Instagram has added a feature called Instagram shopping where the customer can complete the purchase on the platform without making them leave. It has also come up with a sticker called Support Small Business that can help people to recognize.
Key Takeaway
Social Media Marketing can do more good than harm to your business as it can help to reach out to a larger audience thus increasing sales. Social Media Platforms are always trying to balance the needs of people and businesses so that both can co-exist on a single platform.
Being present on different platforms and making use of each platform is left to the creativity of the brands. Agencies that provide Social Media Marketing services are the best ones to help these brands creatively.
The purpose a user is present on a platform completely depends on what the platform offers and how he wants to make use of it.
Don't feel overwhelmed by the numbers stated above, there's always space for every business to be a part of it.