Process
Paid Search Advertising in Bangalore
With customized ads, we help you target users based on demographics, interests, and behavior and also re-target visitors who are interested in your product & services.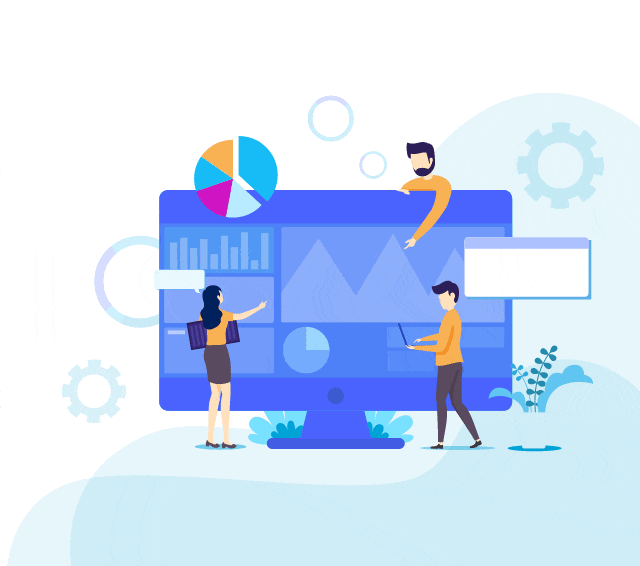 What is PPC (PAY-PER-Click)?
PPC is part of the digital marketing services process to get clicks per target keywords in Google Search engine results pages. When advisers are willing to pay for that commercial keyword with high conversion intent to get clicks, that particular result. In similar ppc methods, functions work for Social Media Marketing ads look like (Facebook, instagram, LinkedIn, Twitter).
How PPC Helps Your Business?
PPC is a service that helps business owners to find the right audience seeking their product or service. When implementing a PPC service effectively, business goals can be achieved with the right audience being targeted in the expected geographic location and at a low cost per click.
Define your goal
Select your Location
Analyze the market size of the product or service
Research similar product or service providers and seekers
Find target audience based on behaviorial pattern
Run a campaign using commercial intent Keyword
Increase your sales or service
SEO Vs PPC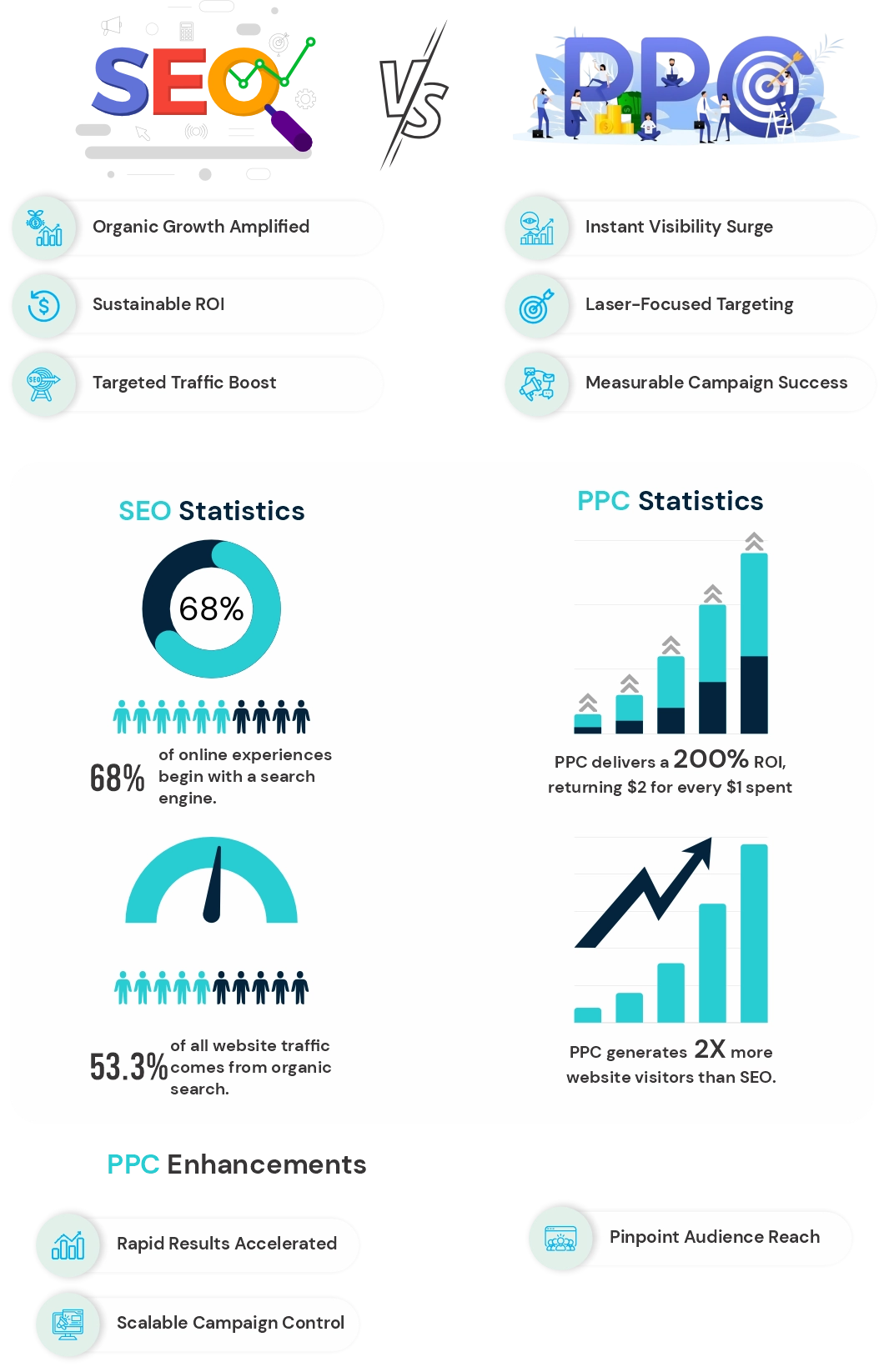 Types of PPC Ads Management Services Provide to Our Clients
Search ADS
Display ADS
Remarketing ADS
Youtube ADS
App Install ADS
Facebook ADS
Instagram ADS
LinkedIn ADS
Twitter ADS
Amazon Seller ADS
Performance Max ADS
Leading PPC Company in Bangalore: Maximize Your Return On Investment
Are you looking for a PPC company in Bangalore that can support to maximize your ROI? Look no further! Our professional team at MetroMindz offers top-notch PPC services in Bangalore to drive targeted traffic to your website, increase conversion rates, and deliver exceptional results.
As a leading PPC company in Bangalore, we understand the importance of a well-executed pay-per-click advertising campaign. With the ever-increasing competition in the online market, a strategic approach that ensures your ads reach the right audience at the right time is crucial. Our expertise lies in crafting targeted campaigns that provide maximum return on your investment.
At MetroMindz, we take a comprehensive approach to PPC management. Our team of experienced professionals combines creativity, data analysis, and industry knowledge to develop customized strategies that align with your business goals. We make it a point to provide personalized attention to our clients, understand their unique needs, and tailor our services accordingly.
When you choose us as your PPC service in Bangalore, you can expect several benefits that will give your business a competitive edge.
What sets us apart:
Strategic Keyword Research
Our experts conduct thorough research to identify the most relevant keywords for your industry. Our goal is to find high-impact keywords that attract qualified leads and maximize your conversion rates.
Targeted Audience Segmentation
Knowing your target audience is critical to successful PPC campaigns. We analyze user behavior, demographics, and interests to segment your audience and serve ads that match their needs and preferences.
Optimized Landing Pages
A strong landing page is critical to converting clicks into leads or sales. We optimize your landing pages to ensure they match your ads, provide a seamless user experience, and encourage visitors to take the actions you want them to take.
Continuous Monitoring and Optimization
PPC advertising requires constant monitoring and optimization. We closely monitor your campaigns, track key metrics, and make data-driven adjustments to optimize performance and drive better results over time.
Transparent Reporting
We emphasize transparency and accountability. Our detailed reports provide insights into the performance of your campaigns, highlight key metrics, and show the return on your investment.
When you partner with MetroMindz as your trusted PPC management service in Bangalore, you can focus on your core business while we handle the complexities of PPC management. We keep up to date with the latest industry trends and best practices, ensuring that your campaigns are at the forefront of innovation.
Don't let your competition pull away! Remember, success in PPC advertising requires expertise, strategic thinking and continuous optimization. With our team of experienced professionals, you can trust that your PPC campaigns are in good hands. Contact us today to discuss your PPC goals and let our team of experts develop a customized strategy that will attract targeted visitors, increase conversions, and maximize your ROI. Together, we can help your business reach new heights in the digital landscape.
Frequently Asked Questions
The success of a PPC campaign is measured through key performance indicators (KPIs) such as click-through rate (CTR), conversion rate, cost per conversion (CPC), return on ad spend (ROAS), quality score, ad position, cost per click (CPC), return on investment (ROI), and engagement metrics. These metrics provide insights into ad performance, cost-efficiency, profitability, and user engagement, enabling campaign optimization and assessment of its overall success.
PPC services are utilized by a wide range of industries, including e-commerce, technology, finance, healthcare, real estate, travel and hospitality, education, automotive, professional services, and retail. Virtually any industry that wants to reach their target audience online and drive conversions can benefit from PPC advertising.
As a PPC advertising specialist, we have expertise in leading platforms such as Google Ads (formerly Google AdWords), Bing Ads, and social media advertising platforms like Facebook Ads, Instagram Ads, LinkedIn Ads and Amazon Ads. I ensure optimal campaign performance and results across these platforms.
Yes, we offer competitor analysis services to help you gain valuable insights into your competitors' PPC strategies, keywords, ad copy, and positioning. With this information, we can develop a tailored plan to outperform your competitors and stay ahead in the market.
Absolutely! We specialize in optimizing landing pages to maximize conversion rates. Through strategic design, compelling content, and effective call-to-actions, we ensure your landing pages engage visitors and drive desired actions. Let us help you unlock the full potential of your campaigns.
Our PPC reporting and analytics provide comprehensive insights into your campaign performance. From click-through rates and conversion rates to cost per conversion and return on ad spend, we deliver actionable data to measure success, identify opportunities, and optimize your PPC campaigns for maximum results.
When choosing a PPC service company near you, consider factors such as their expertise and experience in managing PPC campaigns, client testimonials and case studies, the range of services offered, transparency in reporting and communication, the ability to tailor strategies to your specific business goals, and their commitment to staying updated with industry trends and best practices.